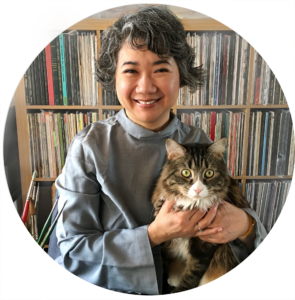 Hello! My name is Yuko Torii.
Q: What kind of name is that?
It is a Japanese name, since I am originally from Akashi, Japan. Phonetically, my name would be spelled Yuuko Torii. But that has too many vowels, so I made it shorter.
Q: Where do you live?
I live in Mexico, in the small town called Ajijic. The town is located right by Lake Chapala — the largest lake in Mexico. It is very beautiful here.
Q: Where did the name "Midnight Atelier" come from?
My first kitty's name was Mitternacht, which means "midnight" in German. Atelier means "an artist's workshop or studio" in French, which is the language I studied and love.
Q: Why do you draw cats?
When I was little, I was extremely shy. I used to hide from others, as I preferred reading and drawing alone. Yet I always had an imaginary cat friend, who dressed and talked like us humans. Together, my kitty and I went on many wild adventures in the make-believe stories I created. I guess I never grew up! Now, I want to make people smile.
Q: Did you study art?
Yes. I graduated from Otis Art Institute of Parsons School of Design in Los Angeles with a Bachelor of Fine Arts. While I was there, I drew, painted, sculpted and even welded!
Q: What can you tell us about your family?
My husband, Doug, is a baritone singer. Our kitty, Parsifal, is a very fluffy calico cat — with a very loud baritone purr.
Q: What inspires you?
My three muses are my first kitty, Mitternacht ("Mitter"), my second kitty, Mondschein ("Mon"), and now Parsifal ("Paru"/"Parito"). You can meet them often in my drawings. And I always feel like a little kids at heart. I love looking around and finding new things everywhere!
Contact me : [email protected]

Please check my daily drawing at Instagram : @midnight_atelier
I am represented by Rachel Orr at The Prospect Agency.
Dummies are available upon request.